Submission Process
Submissions must be made through the on-line submission site.
Go to http://www.easychair.org/conferences/?conf=disc2008
and either register as a new user or login as an existing user.

Submit all the requested information and select the right category for your paper. Categories are:
Regular submission
Brief announcement
Authors of a regular paper may choose the option to consider it as a brief announcement when rejected as regular paper. This will not influence the decision whether such a submission will be rejected as regular paper. Papers must be submitted by :
You may revise or withdraw your paper after submitting it. However, revisions must be received by the deadline. Withdrawals before the deadline can be done using the electronic submissions system. Withdrawals after the deadline will need to be arranged through the program committee chair.
Submission
Papers are to be submitted electronically. Authors unable to submit electronically should contact the program chair to receive instructions.

Every submission should be in English, in .ps or .pdf format, and begin with a cover page (not a cover letter) including:
the title,
the names of all authors and their affiliations,
contact author's postal address, email address, and telephone number,
a brief, one paragraph abstract of the paper,
information whether the paper is a regular submission, or a brief announcement submission,
information whether the submission should be considered for the best student paper award.
A regular submission should be no longer than 4500 words and not exceed 10 pages using at least 11 point font and reasonable margins (excluding figures and references). Additional necessary details may be included in a clearly marked appendix that will be read at the discretion of the program committee. A brief announcement submission should not exceed 3 pages using at least 11 point font and reasonable margins. Submissions deviating from these guidelines will be rejected without consideration of their merits.

It is recommended that a regular submission begins with a succinct statement of the problem or the issue being addressed, a summary of the main results or conclusions, a brief explanation of their significance, a brief statement of the key ideas, and a comparison with related work, all tailored to a non-specialist. Technical development of the work, directed to the specialist, should follow. Papers outside of the conference scope will be rejected without review.

If requested by the authors on the cover page, a regular submission that is not selected for a regular presentation can also be considered for the brief announcement format. Such a request will not affect consideration of the paper for a regular presentation.
Publication
The symposium proceedings will be published by Springer in its LNCS series (Lecture Notes in Computer Science). Extended and revised versions of selected papers will be considered for a special issue of the Distributed Computing journal.


Best paper and best student paper awards
Prizes will be given to the best paper and the best student paper. A paper is eligible for the best student paper award if at least one of its authors is a full-time student at the time of submission. This must be indicated in the cover page. The program committee may decline to offer the awards or may split each one of them.





LaBRI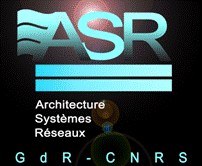 Pôle RésCom